Most times we do ask this question, what is the most popular smart phone in the world? for a truth if a smart phone sells well, it turns to be one of the reason why you buy that particular product, for example elephone is a nice strong smart phone product but how many of us are using it over here, now the number of people using tecno, infinix, and gionee in Nigeria and Ghana is uncountable, if i ask you your next smart phone product you will love to purchase, i can tell you i know the answer.
Now let see the world most popular and selling smart phone from the chart bellow.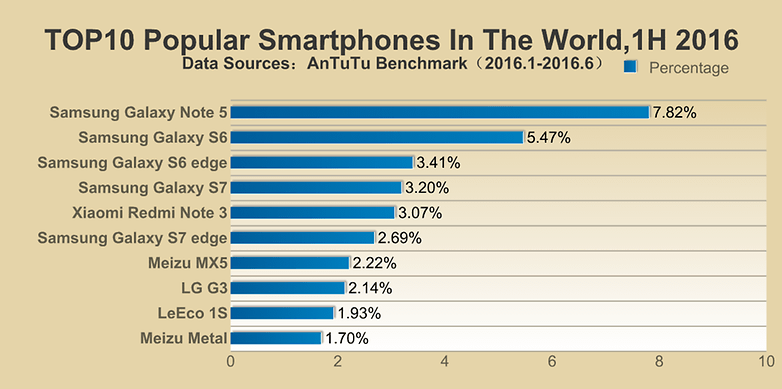 Top10 Popular Smartphones Chart
If we look at the top 10 best-selling smartphones in the world, we immediately see Samsung dominating with five devices: the Galaxy Note 5, Galaxy S6, Galaxy S6 Edge, Galaxy S7 and S7 Edge. The rest of the ranking consists of Chinese smartphones (Xiaomi, Meizu, LEECO) and one from LG. This news shouldn't come as such a surprise – Samsung is the biggest manufacturer worldwide.
Read also
See why you should use Zoto airtime App
R.I.P BlackBerry classic
Now tell us the smartphone product you are using.
Get Our Free Browsing via Sms. SMS Follow Wisprofblog to 40404. On Any Network And Sms is free. Join Our: Telegram Group Here Whatsapp Group Here.